CUTTING EDGE TECHNOLOGY
Apator Miitors strives to work with cutting edge technology and develop the smartest solutions.
We develop the technology of tomorrow, which is produced by our Polish owner Apator PoWoGaz, one of the largest water meter manufacturers in Europe, with a proud 95-year history. As part of the Polish listed Apator group, Apator PoWoGaz is accompanied by more than 15 companies, all of which are leaders within related industries: heat, gas, electricity, mining, drives and systems.

At the core of W-Miitor, the Smartest Water Meter in the World, is an ultrasonic system, that measures the transit time of ultrasound in the water stream. Due to the water flow, very small differences in the velocity of the sound occurs between upstream and downstream transmissions. Our W-Miitor platform takes this well known principle to new levels, by the implementation of a series of new patented inventions.
Ultrimis-W
For the Ultrimis-W, none of the materials in contact with water used for the construction of this meter contain heavy metals. The standard version of this water meter is fully waterproof. The innovative structure makes our product arguably the lightest and smallest ultrasonic water meter available.

This ultrasonic water meter uses a "closed-loop" system, that makes it able to measure up to 50°C and with the full flow rates to a max pressure of 16 bar(PN16). This is crucial when precision measurement of water consumption and the use of modern communication technologies are required, including NFC and wireless radio reading.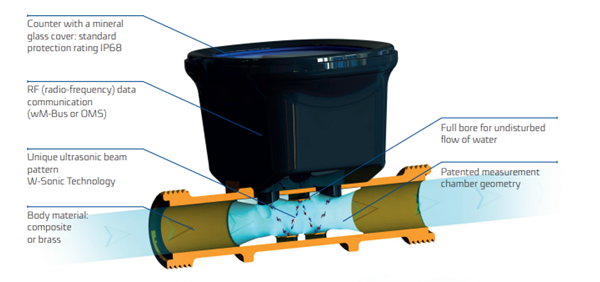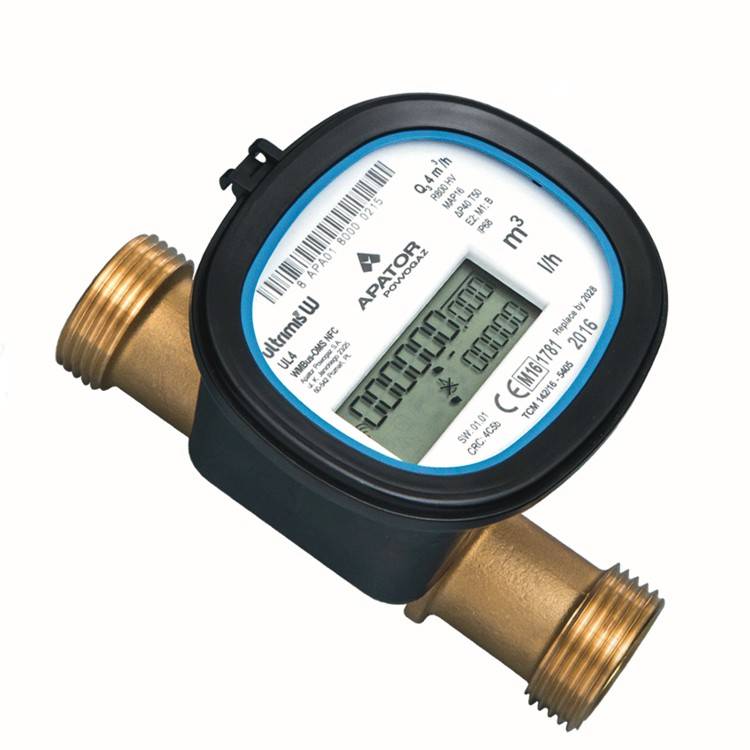 W-Sonic Technology
The Ultrimis W meter uses an ultrasonic beam path (W-Sonic) through the measurement chamber that ensures indicator stability across the entire measurement range. The characteristics of this technology are:

Ability to design a water meter of a significantly shorter length compared with other ultrasonic meters.

No covers in the flow sectional view.

No impact of impurities on the measurement.

The use of an e-system to monitor the ultrasonic beam parameters, that compensates for the piezo elements ageing.

No need for additional equipment for the meter, such as check valve or a strainer.
Miitors patents
The reason for Miitors can stay at the top of the water meter market and be a leading figure,
is due to the many patents Miitors have gathered over the time.